Unlocking the Keys to Success as A Personal Trainer in Australia
A career as a personal trainer is an enriching venture for yourself and your clients. You can work anywhere, from the gym to the beach, on a cruise ship, or online. It's also a great way to meet people as you can help children, seniors, peers, or even celebrities meet their health goals. So, if you're searching for "how become personal trainer" online, you've come to the right place.
This comprehensive guide explains the ins and outs to become a personal trainer in Australia today. Let's jump in!
Why Become A Personal Trainer? Top 5 Fitness Industry Trends to Note
Before you leap into a fitness career, it's essential to understand how the industry currently works and projections for the future. Becoming a personal trainer in Australia is worth it, and here are the leading trends to prove it.
1. People Need More Personalized Health Data
Wearable technology like smartwatches is growing more popular because of the built-in fitness trackers. These trackers give us data about our workouts so we can have the numbers to support our training goals.
A personal trainer can rely on the growth of wearable tech to encourage clients to self-monitor their workouts and use the data to create custom training programs for each client.
2. Remote Fitness Training Continues After Covid-19
We became used to exercising at home when gyms and training centers closed due to the Covid-19 pandemic. But as restrictions ease, people continue with their at-home exercise routines because the newly-discovered flexibility is hard to beat.
Personal trainers can embrace this trend by offering Zoom workouts or live-streaming gym sessions to keep exercise accessible to all.
3. A Holistic Approcach to Nutrition and Medicine
Primary healthcare professionals are increasingly embracing exercise as part of treatment to break free from sedentary lifestyles and help with Covid-19 recovery. Additionally, more Australians need guidance on how to set achievable goals, plan their diets, and maintain good mental health. Therefore, a fitness trainer can add value to medical practices and inspire clients towards wellness in body and mind.
4. A Pivot Towards High-Intensity Training And Relaxation
On the one hand, more people enjoy the muscle-building, weight management, and cardio benefits of high-intensity resistance training (HIRT). On the other hand, Australians continue to embrace relaxation and meditative exercises like yoga, breathing work, and pilates. This trend reveals a win-win for fitness trainers: whatever your preferred exercise style or approach, you're sure to have a steady flow of clients.
5. A Hybrid Gym Business Model
The Covid-19 pandemic also revealed two types of gym goers. Some of us are ready to throw caution to the wind and get back into the gym for the one-on-one training experience and the sense of community.
Others would love to go to the gym but hesitate because of localized outbreaks or passing the virus along from the gym to their family and friends. So how does a personal trainer serve these clients? The hybrid gym is a popular solution, offering in-person or in-premise training sessions alongside virtual workouts to balance an exercise routine. This way, you cater to your client's preferences while meeting their fitness goals.
How to Become a Personal Trainer in Australia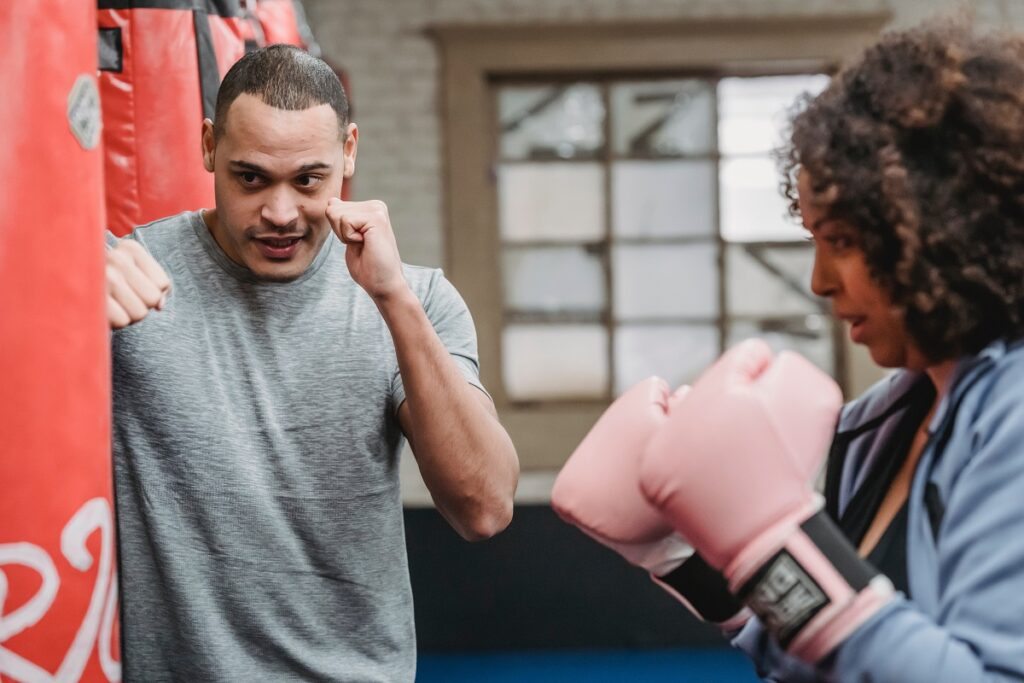 As you can see, a career as a personal trainer offers numerous growth opportunities. With the right personal trainer qualifications, you'll be on your way to earning about $49,000 per year and more as you gain industry experience. That said, a personal trainer is responsible for shifting people's mindsets and transforming their lives. This takes the right skills and knowledge that only a certified fitness course can deliver.
Now you're probably asking, "What qualifications do I need to be a personal trainer?" Let's look at how to become a personal trainer Australia below.
1. Get Qualifications for Personal Training
Personal trainer requirements include a Certificate III and Certificate IV in Fitness, a Diploma of Fitness, or a Bachelor in Exercise and Sport Science. You'll also need practical gym experience before working as a personal trainer in Australia.
Many personal trainers begin with a Certificate III to become fitness coaches or gym instructors and then build up their educational qualifications. These courses teach all the essential skills in fitness, nutrition, exercise prescription, anatomy, and physiology. You'll also learn how to train different groups of people, from adolescents to senior citizens and athletes.
Note: The Certificate III, IV, and diploma courses take about a year to complete, while a Bachelor course takes two-and-a-half to three years. Choose only accredited institutions for your personal trainer qualifications and study at your own pace.
2. Earn A First Aid Certificate
First aid training is critical to becoming a PT to help your clients in case of an emergency during their workouts. This qualification typically takes one day, but you must refresh or update your certification yearly. Learn cardiopulmonary resuscitation (CPR), basic emergency life support, and first aid in various contexts like remote locations, workplaces, and schools. 
3. Gain Fitness Professional Memberships
The leading professional bodies for fitness practitioners in Australia are FITREC, Fitness Australia, and Physical Activity Australia (PAA). These professional memberships offer numerous advantages for personal trainers, including learning resources, career development opportunities, and an invaluable network of fitness professionals. They also work in your favor when you apply for jobs with gyms or other institutions and when building your client base if you choose to work independently. 
Note: FITREC offers a one-year membership, while Fitness Australia and PAA memberships last for two years.
4. Understand How Personal Trainers Insurance Works
You need the following types of insurance to become a personal trainer in Australia:
Public liability insurance: This covers you if your client claims injury during a training session, e.g., accidents with gym equipment.
Professional indemnity insurance: This covers you if your client claims negligence in your fitness regime or training services, e.g., if a client doesn't attain their ideal weight loss goals after working with you.
Product liability insurance: This covers you if a client claims injury from using training equipment, e.g., weights or exercise machines.
Equipment insurance: This covers any fitness equipment you purchase in case of damage, loss, or theft.
Income protection insurance: This covers your ability to earn an income if you're physically unable to work as a personal trainer, e.g., if you can't work because of an injury or illness.
Business insurance: This covers your company and staff members from risks like workplace injuries, property damage, confidentiality breaches, etc.
Note: You may not need all these insurance covers at once, but some level of protection gives you the peace of mind to practice as a personal trainer in case unwanted situations occur.
5. Create A Personal Trainer Resumé
Whether you look for employment or go independent, you need a solid personal trainer CV to put your best foot forward. Include all your trainer qualifications, professional memberships, and relevant work experience. A personal statement also helps to portray your personality and summarize your personal and professional goals. Keep an updated copy of your CV online as a quick way to share it when you meet prospective clients or employers.
As a personal trainer, your work mainly involves one-on-one client interactions. Ensure that you give them the best possible service to improve customer satisfaction, get referrals, and secure your career at your employment or small business.
Over time, you'll discover where your strengths lie as you become a personal trainer. This way, you can specialize in your career and achieve greater fulfillment with your ideal clients. Some examples of niches in fitness training include:
By exercise type or sport: running, dance, yoga, battle ropes, cycling, boot camps
By Lifestyle: summer body training, wedding dress fitness, bodybuilding, pregnancy exercises, senior exercises (for clients in their 50s or 60s), Christmas weight shedding
By health condition: surgery recovery exercises, arthritis or diabetes management, wheelchair exercises, chronic back pain management, people living with disabilities
My belief system: exercises for Muslim women, vegan or vegetarian-conscious fitness
By sexual or gender identity: LGBTQ+ community members
By occupation: people seeking to join the military or police force, high-strung corporate employees, entrepreneurs
Note: Take your time to discover your fitness niche because it will take considerable marketing and outreach effort once you find it.
The fitness industry is constantly growing with new research into medicine, physiology, nutrition, and technology. Stay up-to-date with these changes through fitness training courses, professional membership certifications, or academic institutions. Besides running a fitness facility, you may become a fitness educator, an industry expert, a sports coach, a physical therapist, a fitness equipment or clothing designer, or follow any other avenue you choose. The sky is the limit when you know where to start and how to become a PT.
How to Become Personal Trainer and Enjoy Career Success in Australia
Promote yourself right from your look. Always dress like a professional personal trainer whenever you get to the gym or your client's preferred location. Choose comfortable, practical, and clean fitness attire that sells your profession to help you start conversations outside the gym. Match the visuals with a friendly and helpful personality, and you'll win clients consistently. 
2. Digital Marketing Skills
Your work as a personal trainer goes well beyond the gym or studio. Promote yourself online with social media profiles, followed by a professional website, as your career grows. Take every opportunity to share helpful fitness tips, fun exercise videos, and other uplifting content to connect with your audience. You can also partner with a local influencer to boost your social media presence.
3. Business Management Skills
If you choose to become self-employed, you need to know how to run a business. This includes writing a business plan, getting capital, accounting basics, filing taxes, contingency planning, and much more. Learn about different business models as you discover how to become a personal trainer and see what best fits your passion.
A personal trainer is a leader by definition, demonstrated in three ways:
Your own health and fitness are what inspire your clients. You win half the battle when you look and feel great.
You guide people to improve their lives, even when they face self-esteem issues, physical limitations, and other insecurities.
You accept that everyone's fitness journey is unique, so you create a safe environment with mutual trust, patience, and encouragement.
Therefore, you need leadership skills to help your clients overcome physical and mental barriers and support them throughout their wellness journey. This means recognizing your client's needs, motivating them effectively, actively listening to feedback, solving fitness-related problems, and rewarding their efforts.
5. Physical and Mental Endurance
As a personal trainer, you'll spend your career on your feet, so you need high stamina to keep your energy up. You'll also need to get used to super early hours when you have clients who thrive on 5 AM workouts. Furthermore, you'll need the strength of mind to deal with demanding clients. Sometimes communication breaks down during the workout, or a client's fears become challenging to overcome.
Build physical resilience by taking breaks, staying hydrated, and maintaining healthy sleeping habits. Build your mental strength by remaining focused on your goals, learning from every challenge, and practicing mindfulness.
Once you master these skills, you reap the benefits of becoming a personal trainer, such as:
Sharing your passion, enthusiasm, and expertise with others
Earning a good living from your personal trainer qualifications
Maintaining a healthy, active lifestyle
Having a positive impact on your clients' health every day
Enjoying a flexible career working indoors or outdoors with a wide range of people
A career that never gets boring
Start Your Journey to Become A Personal Trainer with One Training
As you've discovered by now, becoming a personal trainer in Australia takes time, commitment, and dedication. Earning your personal trainer qualifications is only the first step in a healthy, challenging, but always rewarding career.
If fitness is your calling, don't hesitate to pursue your dreams. One Training offers a flexible online learning opportunity to study your Certificate III and Certificate IV in Fitness courses. We are the top fitness qualifications provider for professional athletes in Australia, so we understand how to schedule learning with fitness demands.
One Training offers fitness courses through Zoom classes, online support, and face-to-face workshops. You can study at your own pace over four months, which includes a First Aid Certificate and the opportunity to proceed to diploma courses.
By completing the One Training fitness course of your choice, you'll be able to manage a range of clients, including professional athletes, run a personal training business, and gain exceptional skills to guarantee your success.
Our programs come in three main formats:
Self-study: You get full access to study materials, email support, and face-to-face workshops. Study at your own time and pace, day or night.
50/50: You get one Zoom session per week over the 16-week course, plus the flexibility to complete your studies on your schedule.
Full support: You get a personal tutor and daytime Zoom classes in addition to the self-study features. You receive two Zoom sessions per week tailored to meet your schedule.
Whichever you choose, we guarantee an incredible learning experience to launch your fitness career. In just four months, you'll learn how to become a pt in Australia and make a difference in people's lives. Get in touch with One Training to learn about our world-class learning opportunities today.